Training for Professionals
ROSEMARY LAVINSKI, LCSW, CEAP has created and presented training seminars internationally on Team Building, Cross Cultural Communication, Conflict Resolution, Sexual Harassment in the Workplace, Anger Management, Preventing Violence in the Workplace, and Cultural Diversity.
Train the Trainer
Rosemary has worked internationally helping corporations to develop internal executive coaching and employee assistance programs. She is an ongoing trainer for the National Association of Social Workers and NY and CT State Societies of Clinical Social Work presenting seminars on Building a Private Practice and Developing a Marketing Plan. She is program administrator for Social Work Exam Services. She has served as Adjunct Professor of Social Work in a variety of Social Work schools.
Rosemary has trained and supervised helping professionals for over 20 years. She teaches social workers how to diagnose and treat a varied clinical population.
If you are a social worker in need of supervision hours to receive certification in NY state, Rosemary can help you to acquire them.

Organizational Development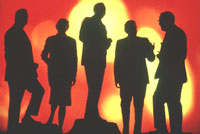 Are you struggling with an organizational problem and not sure how to resolve it? Let Rosemary join your team. She will meet with you to do needs assessment and tailor a program designed to address your organizational difficulties.
Rosemary offers a series of seminar topics including:
• Stress Management and Productivity
• Managing Change
• Time Management
• Dealing With Difficult People
• Team Building
• Life and Work Balance
• Conflict Resolution in the Work Place
• Sexual Harassment Training
• Customer Service
• Creating a Positive Work Environment
Rosemary will be happy to customize a training program that addresses the specific needs of your organization.